#community
Wonderful Works of Westmount
Each year our #community of #passionatelearners at Westmount Elementary School showcase their interests and passions. We are proud to showcase our students in the video posted below.
School Virtue Assemblies
School Virtues
Westmount School recognizes our students each month through an assembly to celebrate their commitment to our school's virtues and values. Each of our virtues (responsibility, respect, collaboration, empathy & perseverance) are celebrated twice each school year. Sporting Spirit awards are also awarded during assemblies to recognize students who have shown dedication and sportsmanship in athletics, and been an inspiration to their peers. Small gifts are presented to the students who win the awards.
Community Connections to First Nations, Metis & Inuit Culture
Westmount School is fortunate to have a First Nation, Metis & Inuit liaison. Meagan Big Snake joins us for her second year as our liaison and her passion continues to connect our school with our Siksika neighbours. Ms. Big Snake works with our students to provide academic support as well as presenting to each of our classrooms to help develop a deeper understanding of culture.
Pookaiks Club & Westmount Princess & Warrior Pageants
Circle of Excellence
The Circle of Excellence is a chance for students to be recognized by the school, their families and their peers for their amazing contributions to our school community. Amazing work habits, academic excellence, displays of citizenship and more are celebrated by all of those who attend. Students who join the Circle of Excellence sign their names to our school wall display as part of the recognition.
Our Library
Our library is the heart of our school and there are always exciting things going on there! The library hosts a makerspace where students are able to come to the library to create, play and learn! Our library is proud to host book fairs, and run activities such as the DIY Club which brings our learning community together.
School Safety Patrol   
The Safety Patrollers are a dedicated team of grade 5 and 6 students.  They patrol the busy crossing in front of our school in the mornings and after school. Students who participate in this program complete training at the start of the year through AMA and are dedicated to doing a good job through all types of weather during the school year to ensure the safety of our students and others using the crosswalk.
Shift times
| | |
| --- | --- |
| Mornings: | Afternoons: |
| Duty begins at 8:00 | Duty from 3:04 - 3:20 |
Weather
The Safety Patrol will not be on duty if the temperature meets -25 degrees Celsius or colder with wind chill. 
Learn More
Please follow the following link to learn more about Safety Patrol on the AMA website: Visit School Safety Patrol site
Golden Hills' International Student Program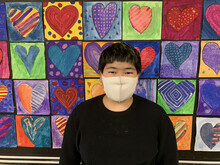 Westmount School is proud to bea part of the Golden Hills School Division's international program and able to welcome students from around the world into our learning community. International students who attend Westmount School become immersed in our learning environment, participate in school activities and programs, have the opportunity to develop language skills and to learn about Canadian customs and culture. 
Where in the World is Westie?