Back to all posts
Posted on
2023 Terry Fox Run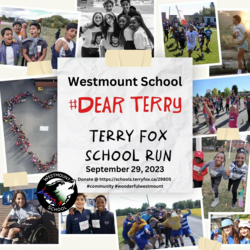 Westmount School 2023 Terry Fox Run
Hello Westmount Families!
Our annual Terry Fox Run event is fast approaching! You will find some helpful information below to learn more about how our students will participate in this event.
When: September 29th, 2023 (after lunch). 
Where: Kinsmen Park
What: Students will participate in the event by walking, jogging or running to support the Terry Fox Foundation.
How: Students can collect donations at home. The donations can be brought into the school for collection. All donations should be brought in by September 29th, 2023. Pledge sheets have been sent home with each student.
Donations can also be made online at:
https://schools.terryfox.ca/29805
Toonies for Terry - We are asking that each student and staff bring in a 'Toonie for Terry'. These can be brought to school and deposited in containers in students' homerooms.
Be Prepared - Please be prepared for the weather just like Terry Fox was!